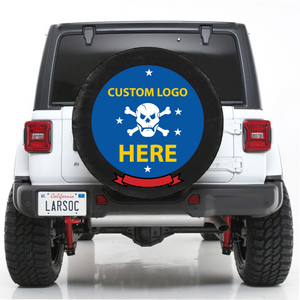 CUSTOM SPARE TIRE COVER
These motivational custom graphic spare tire covers are a true conversation piece. 


Enter your design name above the ADD TO CART button. 
Use abbreviations where needed.
This is a custom
design. It comes with your design on a spare tire cover. See attached images for reference.
NOTES: We'll mock your design up and show you before it gets printed. Coverage of design on spare tire cover might also differ from image.

*If we don't have your design on hand, we may be able to re-create it. A $50-$200 design fee may apply. Message us to make sure we have it prior to purchasing this custom spare tire cover.

This spare tire cover will be ready to ship within 20 days after your unit design is confirmed and the order is received by the vendor. Shipping will take an additional 3-5 days making the total time from order to your door around 2-3 weeks.
About the spare tire cover:

This MGV & SV combination spare tire cover is suitable for most climates found throughout the continental United States. (marine grade vinyl - scrim vinyl) Top of the line UV resistant, latex optimized, scratch resistant inks are used when digitally printing the design onto the SV giving it a slight gloss that produces a vibrant image that'll last for years to come. The tread area of the spare tire is covered with black MGV that features a 'tough as nails' 90 lb rope casing. This spare tire cover also features a set of heavy duty grommets as well as a heavy duty locking zip tie to help prevent theft. It does not come with a lock.
 *** This is a custom, made-to-order product. We will not issue a refund or a replacement if you've mistakenly ordered the wrong spare tire cover size. If we are unclear about your custom tire size, we'll reach out via email.
*** We WILL NOT accept requests for spare tire covers for the following sizes: 85.8" or  86.8".
Tire Size
This spare tire cover comes in many common tire sizes. Triple check your spare tire's size before ordering. Not sure what size it is? Email us a photo of the entire outside of your tire and we'll do our best to help you figure it out.
Don't see your spare tire size listed? Request it via the chat box.
Back-up Camera
Got a NEW'ish Jeep that has a factory built-in back-up camera? We can handle that! *** Email us a photo of your setup and we'll try to sort it out for you: sales@larsocrepublic.com *** The 2" X 4" hole would be right below center.
Shipping
Our vendor in Kentucky will print and ship your spare tire cover within 2-7 days after receiving your order. It will come in a 30" x 13" x 3" sized box and weighs approximately 3 lbs. After it ships, you'll get a tracking number via email to follow. It should arrive in 3-7 days. If it doesn't arrive, be sure to contact us. Spare Tire Covers ship separately from all other items in your cart.
Warranty
All spare tire covers come with a one-year limited warranty from our vendor. If the print fades or the vinyl fails within 365 days of the date of delivery, the vendor will print and ship you a replacement spare tire cover. No refunds will be issued. We will not replace it if the print/vinyl is scratched, rubbed, marred or torn as a result an outside acting force.
Spare Tire Cover Care
Got it muddy? Hand wash only with hot soapy water, then rinse and repeat as needed! DO NOT use a pressure washer or any harsh chemicals to clean. REMOVE cover prior to entering any drive thru car-wash. Do not wash in a washing machine or put in the dryer.

Stay Motivated!
DISCLAIMER 
Do not install this spare tire cover from your Active-Duty/Reserve Vehicle. Doing so is a punishable offense under the UCMJ and could lead to NJP proceedings or a court martial of which may result in you being kicked out of the United States Marine Corps.
Stay Motivated!